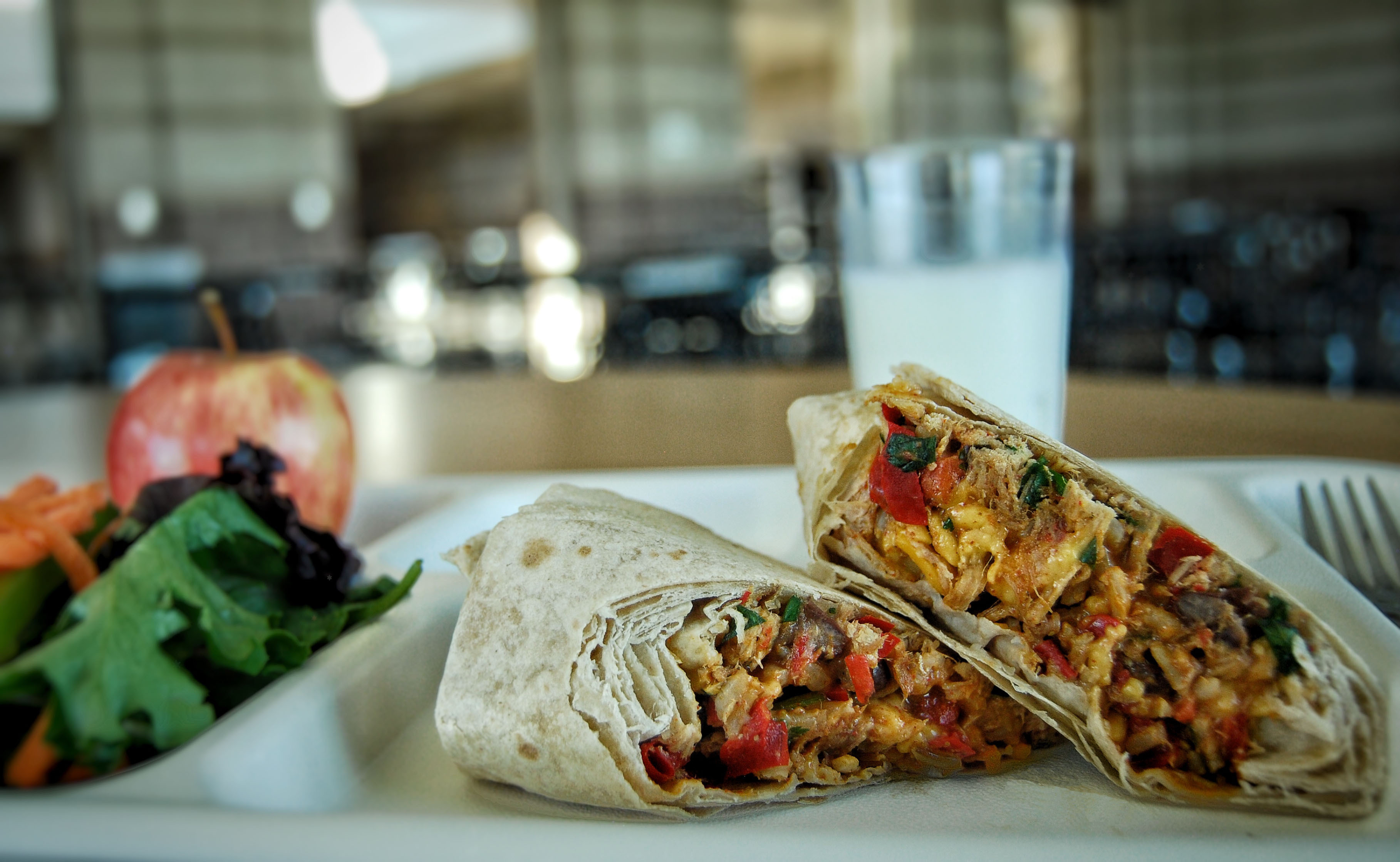 Item ID: FS096
Batch Quantity: 100
Serving Size: 1/2
Serving Measure: EACH
Serving Description: 1 Serving = 1/2 Burrito
Nutrition Link: 80316
Food Category: Pork
HACCP: MEATS
HACCP Process Category: SameDay
Recipe Source: BVSD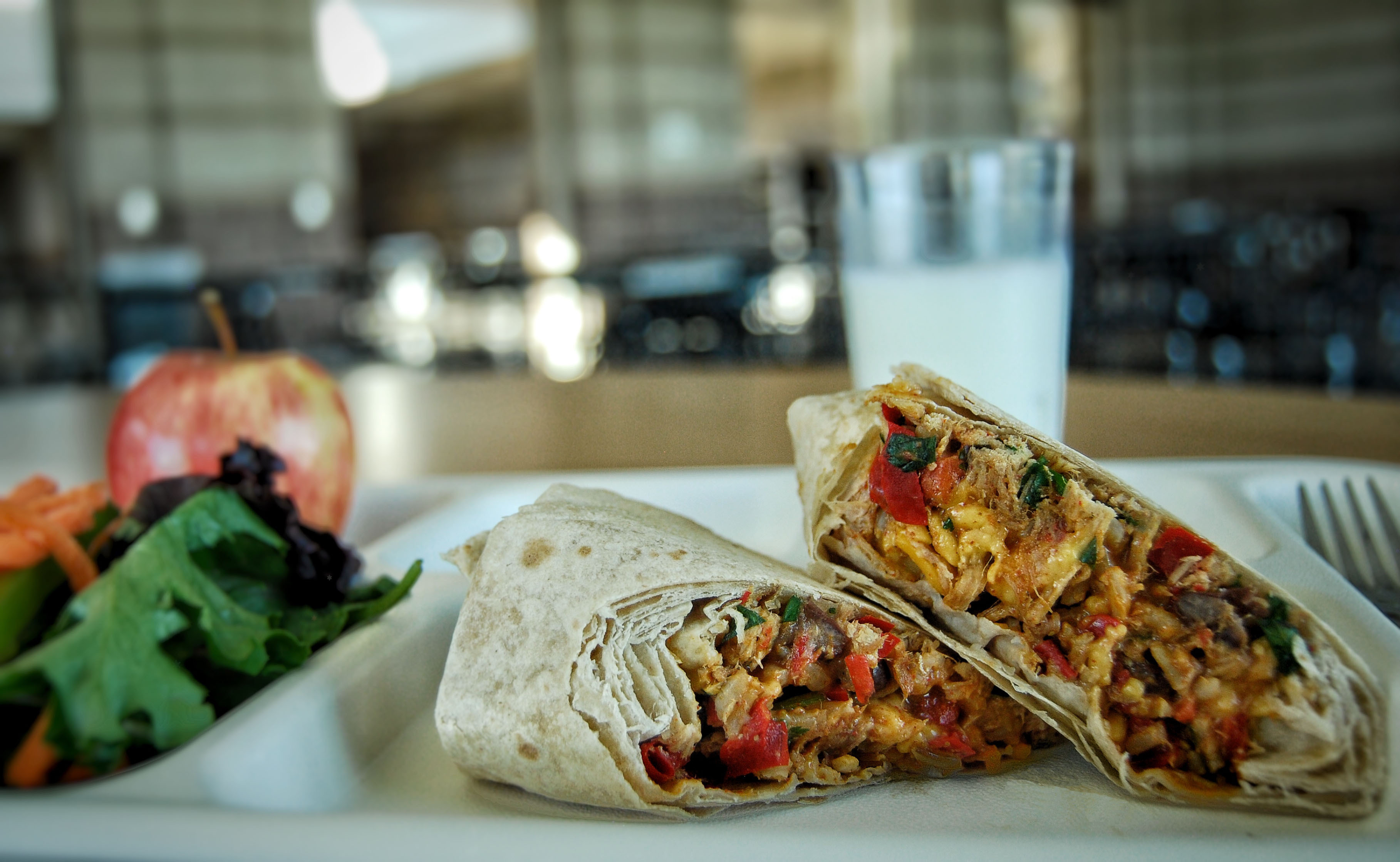 Item ID: FS096
Batch Quantity: 100
Serving Size: 1/2
Serving Measure: EACH
Serving Description: 1 Serving = 1/2 Burrito
Nutrition Link: 80316
Food Category: Pork
HACCP: MEATS
HACCP Process Category: SameDay
Recipe Source: BVSD
Ingredients list for this recipe is unavailable.
Instructions
Pre-Preparation
Recipe Source: Boulder Valley School District Food Services
Drained black beans yield: 56%
Pork leg without bone yields 60%
Preparation
Thaw pork under refrigeration for 24-48 hours.
Preheat oven to 325 degrees Place pork in a deep hotel pan. Season with salt and pepper. Add dice green chilies, cumin and chili powder and water. Roast pork, uncovered for two hours until browned then rotate 180 degrees to brown other side for another 2 hours. Add more water as needed.
While pork is cooking, combine rice and water. Cook in a preheated steamer for 60 minutes and then cool completely. Reserve until pork is finished Reserve braising liquids and ingredients from pork. Shred pork and add in rice, cheese, drained black beans, roasted red peppers, and cilantro.
Strain the green chilies from the braising liquid and add to the mix. Mix well and add in some of the liquid to achieve a nice moist burrito filling that will hold together lightly when pressed in your hand. Using a number a #8 disher place one scoop onto a 9 inch ww tortilla and roll into a burrito. Place 30 burritos onto a lined sheet pan.
Serving
Reheat covered in a 350 degree oven for 20 minutes or until internal temp is 165 degrees.
Slice in half for PK serving.
To serve to-go style:
Simply wrap the finished burrito in a 'pop up' foil sheet. Serve warm or flash freeze and serve frozen for a meal later in the week.
Food Groups/Meal Patterns
Recipe Analysis:
Servings per meal pattern are based on default serving size and measure:
| | | | |
| --- | --- | --- | --- |
| Fruits: 0 | Vegetables Total: 0 | Meat/Meat Alternative: 0.5 | Calories: 156.19 |
| | Dark Green: 0 | Milk: 0 | Sat. Fat: 3.42% |
| | Red Orange: 0 | Grains: 1 | Sodium: 357.66 |
| | Legumes: 0 | | |
| | Starchy: 0 | | |
| | Other: 0 | | |
| | Additional: 0 | | |
Menu Development
When we change from ready-to-heat foods to fresh foods in the context of menu planning, letting go of prior presumptions is important. Determining the amount of choices and how many per each age group are examples of menu planning challenges. Efficient, fiscally sustainable scratch-cooking programs are reducing choices in favor of fresh flavors.